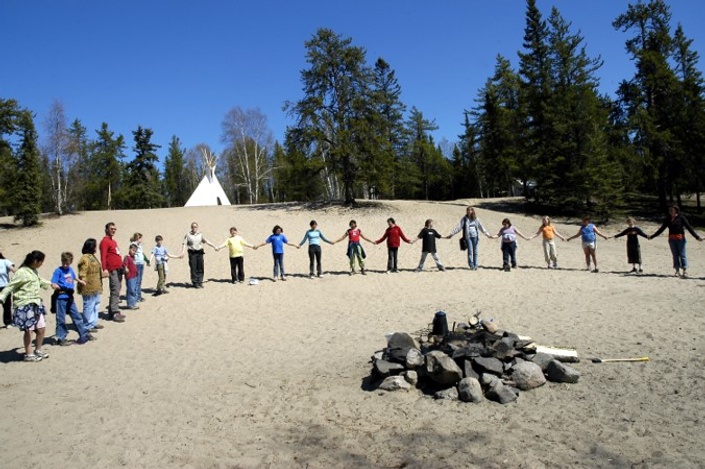 Comprehensive Six Module Online Course
The Indigenous Circle Approach to Cultural Confidence™
The Indigenous Circle Approach to Cultural Confidence™ is the Reconciliation "How-To" Guide everyone's been looking for!!!
It was created as a way to introduce and explore ideas and concepts related to reconciliation and is premised on creating an intentional space to help understand each other's stories using a friendly, engaging, interactive, non-threatening, inclusive, non-academic approach. It is the foundation for the approach we take to help organizations build their cultural confidence.
Comprehensive Six Module Online Course

The foundation of our cultural confidence training is a six-module online course – The Indigenous Circle Approach to Cultural Confidence™. We use a traditional storytelling approach through a series of incredible videos with up to four guest panelists (Elders, Knowledge Keepers, Youth) for each module, bringing their unique perspectives and both modern and traditional world views to the topic and content.
This course is intended for those interested in deepening their understanding of Indigenous issues throughout Canada in a supportive learning environment, with opportunities to engage, ask questions, and listen to others' stories and experiences.This is an extraordinary training opportunity that creates meaningful engagement and transformation.
The online training is self directed, and participants work at their own pace.All course materials are located on our online campus. Each module includes:
A Storytelling Video (approximately one hour and fifteen minutes) with up to four guest panelists (Elders, Knowledge Keepers, Youth) who share their unique stories and experiences related to the topic.
An extensive Library of Curated Reference Materials including articles, news stories, and learning resources
Homework Assignments based on the medicine wheel teachings to deepen the learning
Powerpoint Presentations used to supplement the conversation in the videos
Written Transcripts of the entire conversation from each video
Group Reflection Questions for guided group work
Completion Certificate
Verifiable Professional Development Training Hours
Because this course is self-directed, the course can be customized to learner interests and organizational priorities. Some prefer to simply watch the videos. Others watch the videos and dive deeply into hours of learning from the resources included in our library. Others opt for group learning and utilize our reflection questions to help guide weekly team discussions.It's up to you!
Learners can purchase the complete Comprehensive Six Module Online Course featuring all six modules together as a package, or purchase any of the Short Courses, featuring each of the six modules individually. While each course / module is complete as a stand alone, they were designed to flow, holistically, together.It is highly recommended to take the entire Comprehensive Six Module Online Course whenever possible.
Descriptions for individual modules:
C – Creating Space
In this module we explore what creating space means and why it is needed to build a culturally confident Canada.We look at terminology and Indigenous identity in a modern context, and the impacts that misperceptions, racism, and lateral violence have on our communities.We also look at the various rights held by Indigenous people and the differences between political, legal, or cultural identity and how this can be informed by various environments. We also examine identity as it relates to privilege as well as racism and harmful stereotypes. We explore and discuss the current relationship between Indigenous and non-Indigenous peoples and how creating space can help heal a relationship characterized by fear and mistrust.In this module, our special guests are Elder Bernard Nelson (Oji-Cree Elder), Laura Maracle (Mohawk Educator) and Hunter Tastard-Homer (Mohawk Youth).Join us as they share their stories.
I – Indigenous History and Context
In this module we explore the history of Canada from an Indigenous viewpoint.Topics include Pre-contact, First Contact, Treaties, and racist government laws and policies such as the Indian Act, Enfranchisement and Residential Schools.We look at historic challenges and modern realities and the impacts of intergenerational trauma on our communities.We discuss the difference between cultural confidence, cultural competency, and cultural proficiency.In this module, our special guests are Elder Bernard Nelson (Oji-Cree Elder) and Hunter Tastard-Homer (Mohawk Youth). Join us as Elder Bernard shares his story and experiences as a survivor of residential school, and as he and Hunter discuss their experiences in reclaiming their culture and identity.
R – Relationship Building and Protocol
In this module we explore cultural protocol and how to build positive relationships with Indigenous people, communities and organizations.We introduce the five National Indigenous Organizations (NIO's) within Canada, as well as other local, regional, and national Indigenous communities and organizations as a way to start learning about who your neighbours are, personally, or professionally.We introduce protocol models and explore their relevance within the workplace by discussing the Seven Grandfather Teachings – Truth, Humility, Honesty, Respect, Courage, Love, and Wisdom.We also speak about the incredible diversity that exists in Indigenous communities throughout Turtle Island, and also note the many commonalities between First Nations, Inuit, and Métis worldviews. Our special guests in this module are Pytor Hodgson (Anishinaabe Business CEO), Saimaniq Temela (Inuk Youth), Brooke Taylor (Oji-Cree Military Aircraft Technician) and Brett Robertson (Saulteaux Military Aircraft Technician)Join us as they share their stories and experiences about building relationships with Indigenous peoples based on trust and appreciation for cultural differences, and the importance of engagement and consultation.
C – Culture, Community, and Ceremony
In this module we explore the importance of culture and ceremony for individuals and communities.The relevance of culture within the workplace can often be confusing from a non-Indigenous worldview.We look at how culture and ceremony is intimately connected to community and identity, and how respect and appreciation for cultural activities can positively impact the workplace. We talk about the differences between cultural appropriation and cultural appreciation and we discuss appropriate protocols and best practices for working with Elders.We also reinforce the commonalities of Indigenous worldview and the diversity that exists across cultural teachings, and introduce the Medicine Wheel, Grandmother Moon and circle teachings. In this module, our special guests are Elder Bernard Nelson (Oji-Cree Elder) and Stephone Covert (Anishinaabe Youth).Join us as they share their stories and experiences about the Sun Dance and sweat lodge ceremonies, and what it's like to follow the Red Road.
L – Land, Language, and Lifelong Learning
In this module we explore how land, language, and lifelong learning impact Indigenous identity and life purpose.We discuss the importance of the connection to the land for Indigenous peoples as a sacred responsibility and the role of language as the essence of existence; the expression and foundation of culture and ways of knowing and being. We explore the First Nations Holistic Lifelong Learning model as a graphic representation of holistic learning as a way of life, from womb to tomb.We challenge the notion of academics as the sole measure of educational success and look at redefining success from an Indigenous lens.We reinforce the profound impacts of connecting to the natural world on Indigenous wellness and well-being. In this module, our special guests are Krista D'Amour Flute (Lakota Anarchist) and Lynn Brant (Mohawk Grandmother).Join us as they share their stories about the importance of language and land to their sense of identity.They also share their experiences about child rearing and spirituality as well as different perspectives on land protests and land protection.
E – Education leads to Reconciliation
In this module we explore the Truth and Reconciliation Commission's Calls to Action, your role in reconciliation, and what you can to do be an ally. We also talk about some of the many inspiring models of success in our communities across all sectors of life, including health, education, justice, economic development, language, culture, art, music, and writing.We talk about activism and advocacy, the many approaches to reconciliation and some of the challenges Indigenous people have with reconciliation.While the concept of reconciliation can be daunting and intimidating, we explore options for individuals and organizations to work at their own pace, in ways that are manageable and exciting and fun.We also encourage people to be brave and to challenge themselves.We conclude the module with a look forward to Canada's future and ask how we can all inspire change for our next generations.Our special guests in this module are Krista D'Amour Flute (Lakota Anarchist), and Leanne Wright (Mi'kmaq Lawyer).Join us as they share their stories and experiences.
Course Curriculum
Welcome and Introduction - Self Directed Online Course
Available in days
days after you enroll
Module One: Creating Space
Available in days
days after you enroll
Module Two: Indigenous History and Context
Available in days
days after you enroll